1948 Topps Gum Magic Photo Card of Dr. Vladimir Zworykin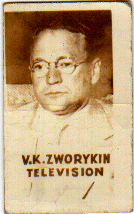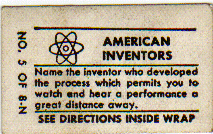 The first Topps baseball cards appeared as a subset from the issue of 252 "Magic Photo" cards
The V. K. Zworykin card is a very rare 1948 Topps Gum Magic Photo card #5H, one of eight inventor cards in a subset of the main issue.
It is very nicely developed and in very good condition. These cards originally came with a blank front. One would then moisten the front by spitting on the wrapper and holding the card against it. Then exposing the card to light to develop the photo. These are about the size of a postage stamp, which would explain their rarity.
---
Felix The Cat Broadcast of 1929 | Dr. Zworykin's Secret Experimental RCA Photos of 1933 | First TV Dinner June 21, 1936 | First Live TV Demo November 6, 1936 | Public Sees TV at 1939 World's Fair | Photo Card of Dr. Zworykin 1948 Topps | Dr. Zworykin weds November 14, 1951 | Dr. Zworykin dies July 29, 1982 | eMail: Steve Restelli | Sign:Guestbook | Links |
---
Steve's Historical Find; Newly Discovered Underground Railroad site in Lebanon, NH
---
Copyright 2001, The Restelli Collection has been visited

times, check back for future additions. Last update; 02-05-02