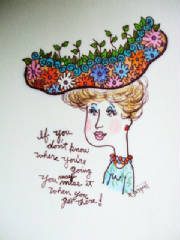 The Ladies in Hats Series
If you don't know where you're going, you may miss it when you get there !
The Ladies In Hats series is a more recent series of drawings by Bob that brings out the whimsical side of the fairer sex. These pieces were also "made to order" with the customers' own sayings or quips.