Click Here to Download Hang w/ and Broadcast Yourself on Social Media.
The Four Miss Televisions
Introduced Television at the 1939 New York Worlds Fair for RCA and NBC
The four "Miss Televisions" at the New York World's Fair consisted of Muriel Robert (far right), Teressa Harris (far left), Virginia Hare(center left), and Phyllis Creore Westermann (striped blouse). Phyllis was actually the first one hired but it was a tough schedule for one person so they brought on some additional women to be Miss Television. The 4 Miss Televisions worked from April 30th through October 31, 1939 producing television broadcast history at the New York Worlds Fair.
TV history happened daily, and on August 5, 1939 when Mercer, the international Grand Champion "Firestone" steer and two Borden's calves became the first farm animals ever to be televised. Mercer was interviewed by Miss Television (Miss Muriel Robert)along Miss Gladys LaVance, former rodeo rider and now chief of information staff at the Ford Exhibit to kick off National Farm Week. All four or these beautiful ladies should be considered true television pioneers.
At the time of her broadcasts there were only about 100 televisions in America, and most of them were at the New York Worlds Fair and in New York City.
Muriel Robert was an actress and did several movies. Phyllis Creore also went on to have her own radio show during WWII called "Canteen Girl."



Some 45,000,000 people attended the New York Worlds Fair, but few photographs seem to have been taken of the RCA Television Exhibit. Cameras may not have been allowed as television was still experimental. The entry level television receiver was $600, which was about the price of a new car. Due to the low number of television receiving sets available it is estimated than only several hundred viewers were able to watch the opening ceremonies and visitors being televised.
---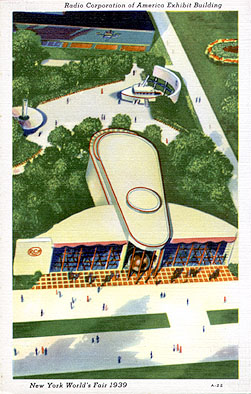 The Garden behind the Tube Shaped RCA Exhibit Building

There was a fully equipped yacht with all the latest radio devices for communication and safety at sea. It was part of the radio-marine section of the Radio Corporation of America Exhibit and was supplied by the Elco works.

In front of the Yacht People Stood in Line to be Televised by NBC's Telemobile Units. A signal was sent via the "Telemobile" (RCA/NBC mobile Television van) to the Empire State transmitter and rebroadcast to the television sets at the fair.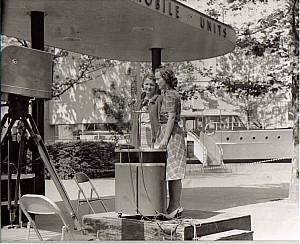 Above Copyright Photo Courtesy Sea Bird Publishing, Inc., 2002. All rights reserved (321)727-0801 or jculber@grafixupix.com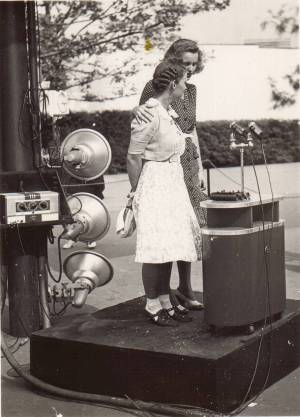 RCA Television Staffers, Teressa Harris on the left and behind her is Muriel Robert, "Miss Television", who moderated the Television shows at the 1939 Worlds Fair. All but top photograph belong to the Restelli collection at historytv.net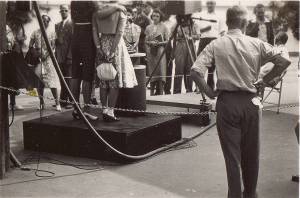 Visitors who appeared on television at the RCA Exhibit received the card pictured below as a souvenier. It must have seemed like magic to those few who witnessed this event! The first retail revenue to flow into television would be from visitors to the exhibit and customers willing to pay $600 for a television receiving set. Commercial television and advertising dollars would not be forthcoming for another 2 years.
World War II would end TV equipment production, and broadcasts from 1941 to 1945 would be very limited. Manpower and resources were directed towards the war effort. But a strong post war economy and a new "Television Industry" would fuel the exponential growth of television.
It wouldn't be until 1946 when television would take off with the introduction of the $375 630TS RCA Victor television set. The growth of network programing in this new art and studio production would evolve into a multi billion dollar and global industry.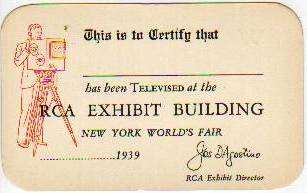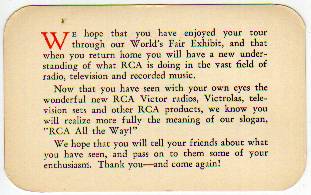 ---
Felix The Cat Broadcast of 1929 | Dr. Zworykin's Secret Experimental RCA Photos of 1933 | First TV Dinner June 21, 1936 | First Live TV Demo November 6, 1936 | Public Sees TV at 1939 World's Fair | Photo Card of Dr. Zworykin 1948 Topps | Dr. Zworykin weds November 14, 1951 | Dr. Zworykin dies July 29, 1982 | eMail: Steve Restelli | Sign:Guestbook | Links |
---
Copyright 2015, The Restelli Collection has been visited

times, check back for future additions. Last update; 3-28-15