Dr. Vladimir Kosma Zworykin, Television Pioneer
From His Personal Photographs, The Restelli Collection
Copyright 2001. All Rights Reserved, Images may be used only with permission of the owner Steve Restelli developed from the home site for the collection https://members.tripod.com/~FrameMaster/
---
From The Collection
The Autographs of Dr. Vladimir Kosma Zworykin
Here are 3 examples of actual autographs by Dr. Zworykin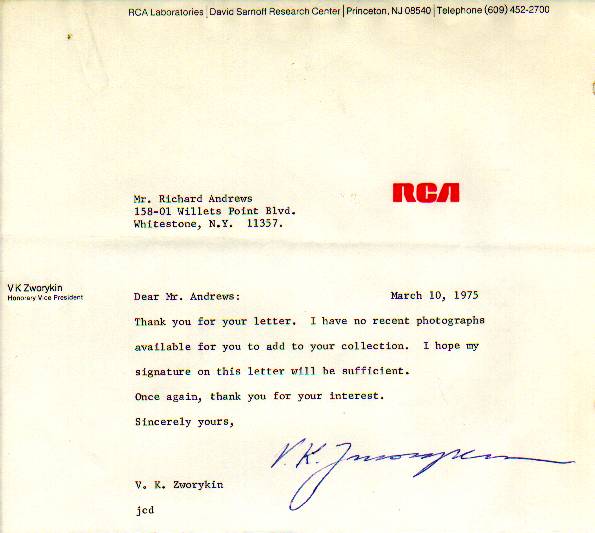 Here is an autographed letter on RCA stationary dated March 19, 1975 to a fan.

Here is his signature from the collection on an index card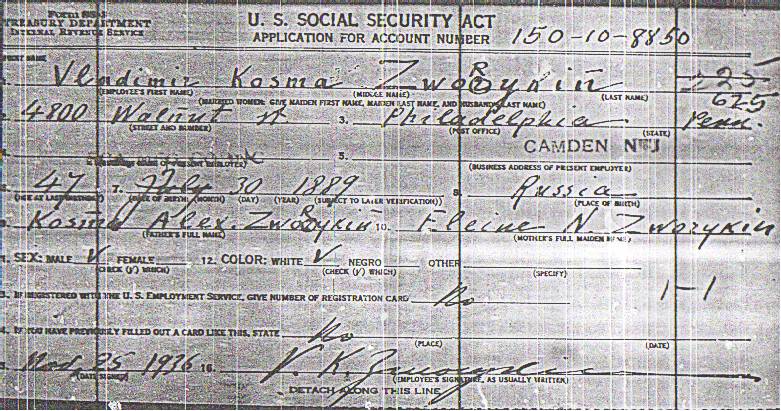 Above is a Photo Copy of Dr. Zworykin's Application for Social Security Dated November 25, 1936. The number Social Security Number assigned to him was 150-10-8850.
Note the way Dr. Zworykin printed the letter "R". It was circled and changed by the U.S. Government because it looked like the letter "Z". It should be noted here that Russian letters are different from the letters of the English alphabet, and even our own cursive letters vs. their printed letter equivalents look much differently. In cursive form per his signature a "Z" can look just like "RY". There are many relatives of Dr. Zworykin that have relocated to the United States from Russia and had their names changed beyond recognition by the Immigration and Naturalization Service.
The name Zworykin used in the United States was derived from the Russian surname Dwork which became Dworkin, or Dworetsky, depending on whether you were the father of the son. The name means farm gate, or palace gate when translated into "english". The begining of the name Dworkin when listening to it from other than a Russian ear the "Da", sounds like "Za".
Because of this variety of interpretations, the original family name Dwork has splintered into Dworksky's, Dworsky's, Dworkin's, Dworkows, Dworkets, Zworkin's, Zworykin's, Tworetsky's and others.
This unique way of printing the letter "R" is proof that all of the handwritten descriptions in the albums at >HistoryTV.net" were done by Dr. Zworykin himself. >Click Here to view another example or the letter R in MORTON"
---
View the First TV Dinner--June, 29, 1936. It was HUGE!"
---
RCA's Official Press Release July 30, 1982 "Dr. Vladimir K. Zworykin, RCA Television Pioneer, Dies"
---
1948 Topps Gum Magic Photo Card of Dr. Zworykin"
---
Go to the Top | Zworykin Biography | Links Page | 1951 Zworykin Album | eMail: Steve Restelli
---
Steve's Historical Find; Newly Discovered Underground Railroad site in Lebanon, NH
---