VERMONT FRONTIER CAVALRY FLAG FROM 1864-65?
Was this flag used by the VT First and Second Companies of Frontier Cavalry?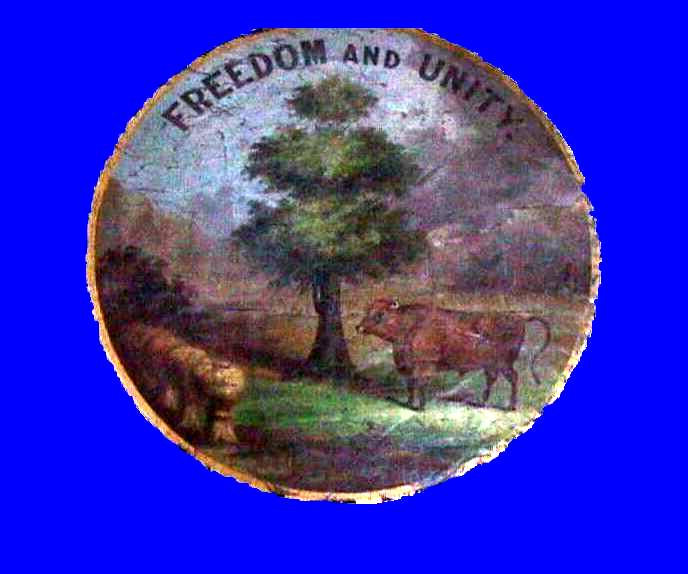 FRONTIER CAVALRY Organized January 1865.
It was a provisional force hastily raised and equipped for temporary service to guard the Northern Frontier after the St. Albans Raid in Vermont. This raid was the furthest military action of the Civil War by Confederate soldiers in an unprotected territory of the North.
To protect these areas of the Northern States a new Cavalry unit was formed.
Although officially called the 26th New York Cavalry, it was not all-New York unit. It was composed of three Massachusetts companies, two from Vermont and seven from New York. The two Vermont Companies were Company M and Company F, which were first located in Burlington and later moved to St. Albans.
These two companies were mustered out June 27, 1865 and consisted of 6 officers and 200 enlisted Vermonters.
The regiment was never in camp together and the Vermont and Massachusetts companies were stationed independently from the New Yorkers and were officered by men from their own states. In fact, the Vermonters did not much care for the New Yorkers and preferred to call themselves the "First and Second Companies of Frontier Cavalry," which is the way they are still listed on Vermont military records.
COMPANY M OFFICERS:

Josiah Grout, Jr., Captain,
Edwin Baldwin, Captain
George B. Howard, 1st Lieut.
Carlos E. Cheny, 1st Lieut.
Joseph P. Eddy, 2nd Lieut.


COMPANY F OFFICERS:

George B. French, Captain
Francis G. Clark, 1st Lieut.
Albert H. Gould, 2nd Lieut.


There are 45 stars in the banner above which is probably from an old GAR post in Northern Vermont. A 45 star flag would date to 1896-1908. It could also be a flag from the celebration of Admiral Dewey and the end of the Spanish-American War. Note the very similar image of the Civil War Cavalry flag. This banner was recently found in Westfield, Vermont.
Westfield is just south of Newport up by the Canadian Border, and an area that would have been patroled by the Frontier Cavalry.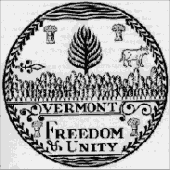 ---
THE SEAL ABOVE (LEFT )IN THIS FLAG WAS CREATED IN 1821.
IT WAS A MORE REFINED REALISTIC VERSION OF THE 1787(RIGHT)STATE SEAL